President Trump Names Ann Begeman as Acting STB Chairman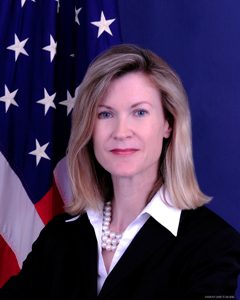 On January 25, President Donald J. Trump designated Ann Begeman to serve as Acting Chairman of the Surface Transportation Board (STB or Board).
Acting Chairman Begeman is currently serving a second, five-year term as a Member of the Board following her recent nomination by President Barack Obama on December 7, 2016, and her subsequent unanimous confirmation by the U.S. Senate on December 9, 2016.
Acting Chairman Begeman first joined the Board in 2011. Her current term expires December 31, 2020. She is expected to serve as acting chairman until President nominates and the Senate confirms two vacant seats on the five-member STB.
"It is an honor to serve the public on the Board, and I am grateful to President Trump for the opportunity to lead the agency at this time," Acting Chairman Begeman said in a press release. "I look forward to continuing the important mission of the STB in my new capacity as Acting Chairman, working with the new Administration, my fellow Board Members, Daniel Elliott and Deb Miller, our dedicated agency staff, and our important stakeholders."
"I also wish to recognize former Chairman Daniel Elliott for his service and leadership, and his sincere efforts to facilitate a smooth transition during the change in administrations," Acting Chairman Begeman added.
In carrying out her leadership duties, Acting Chairman Begeman said she is committed to working with her colleagues and Board staff to help make the agency more accountable, transparent, and timely.
Born and raised on a family farm in Humboldt, South Dakota, Acting Chairman Begeman came to Washington, DC after graduating with a B.S. in business administration from South Dakota State University. She joined the staff of her then home-state Senator, Larry Pressler (R-SD) and subsequently moved to the staff of the Senate Commerce, Science and Transportation (Commerce) Committee, which Sen. Pressley chaired.
In 1995, she played a key role in the crafting the ICC Termination Act, which sunset the Interstate Commerce Commission and created the STB. She also worked on Amtrak reform legislation, and railroad and motor carrier safety laws.
She served as the Republican Staff Director for the Senate Commerce Committee under the leadership of former U.S. Senator Kay Bailey Hutchison (R-TX) and as the Committee's Deputy Staff Director and Transportation Policy Advisor under the leadership of U.S. Senator John McCain (R-AZ).
Acting Chairman Begeman has also served as Legislative Director and Acting Chief of Staff for Sen. McCain.
Since joining the Board, Acting Chairman Begeman has served as the Board's Vice Chairman from May 2, 2011, to January 3, 2012; from January 4, 2013, to May 27, 2014; and from January 1, 2015, to January 7, 2016. She has also served as Co-Chair of the National Grain Car Council for 2011, 2013, and 2015.